Photo: Alessandro Casagrande
There's something majorly special about Kid Bloom. We first discovered them in 2016 when they were starting to gain traction for their immaculate fusion of alternative and psychedelic on their A Different State of Mind EP. Since then they've racked up millions of streams and had their song "Electric U" featured in the film Independence Day Resurgence, hitting a pivotal turning point and rocketing them toward the big leagues of the music industry (and some very eager fan girls). 
Their new video for their smash hit "Parents House" is addicting, and we are a little obsessed here at Ones to Watch. It features incredible psychedelic illustrations, perfectly encapsulating that butterfly-filled time in youth where first love is in the air and parties are thrown at a parent's house. 
What sets Kid Bloom apart from other bands is hard to place. Perhaps it's the lead singer, Lennon, who has the grungy star quality seen in the most iconic rocksters, and an unapologetically spunky personality to match. It could be the impeccable chops of guitarist Zach Tabori, drummer Clayton Sewelson, pianist Bobby Victor and bassist Blake Morell who make up the star-studded backline. Kid Bloom's set is washed in a projection of swirling images and soapy colors, making shows feel both intimate and distinctly unique. 
Not to mention, the energy from these kids is electric, both on and off stage. Could these elements alone explain why attending one of their shows feels like you're witnessing history in the making? We sat down with frontman Lennon Kloser to get to the bottom of what makes Kid Bloom so special.
OTW: Let's talk about Kid Bloom! Did you all go to high school together?
Kloser: We honestly all met through the music. This current lineup is somewhat new, so the music was sent around and the right people joined. Zach actually brought our drummer Clayton into the band, and Clayton brought our keys player Bobby into things. Zach and I went to high school together and played in Jazz band together. I knew him as this crazy virtuoso, and then all of a sudden we're playing in a band.
OTW: What'd you play in jazz band?
Kloser: I played guitar. It's so funny, I never made it into A band. And Zach was in A band. I was in C band and then C band again and was super pissed. (laughs)
OTW: Have you sent that band teacher any of your new music?
Ya know what I haven't, and I love that teacher. He changed the way I play. And I'm gonna do that now actually.
OTW: You guys clearly have a lot of different influences, and the word psychedelic is used often when describing your sound. Where do you draw influence from?
Kloser: I almost don't even want to dwell on the psychedelic thing because yes, we are, but we're always taking from everywhere. Even like, Motown ya know?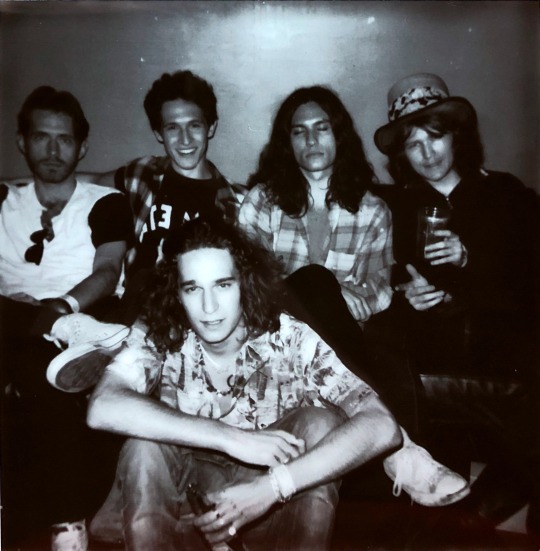 OTW: Where do you see the sound going from here?
Kloser: Ok. I think Ones To Watch is awesome, and I love you guys so much, so I'll give you a hint. We're really into ABBA right now. The Swedes man. They make the craziest music arguably of all time.
OTW: Say no more. Speaking of influence, were you in fact named after John Lennon?
Kloser: Yo I was, and it's just because my parents love music. They wanted to bestow it on me. 
OTW: "Parents House" is a personal favorite of mine. Tell me about writing that song.
Kloser: I'd been sitting on that chorus for a while, and then I wrote the verse because I watched the first episode of Stranger Things. It just took me in and I loved it, so I just wrote a song about it and put the two songs together. And it worked so well. The song is so controversial, you either love it or you hate it. I love that.
OTW: "Different State of Mind" is also a little bit controversial, is it about a drug trip?
Kloser: I will say this so much; I do enjoy smoking weed. However, that song is not about a drug trip but rather about being smitten by a girl and being in a different state of mind. The lyrics, "my jaw hanging like an accordion," that doesn't happen from being high! My jaw is hanging, because I'm like, "Ohhhh my god." It's not about molly, it's not about weed, it's just about being in love.
OTW: Where do your lyrics come from?

Kloser: My writing comes from my life and my experiences. "Fishing Line" is about me working at a coffee shop, being a barista.
OTW: How was that?
Kloser: It sucked. I was good at the leaf though. And I had the heart down as well.
OTW: I've never done that, seems like everyone should try being a barista at least once to appreciate their coffee more.
Kloser: Ya know what? I will teach you personally so you spare yourself that job. A latte is easy, but a really good latte takes some time.
OTW: What's your favorite kind of show to play? Do you like smaller more intimate shows or the big crazy ones?

Kloser: I like shows that you don't expect. I've learned you can never go into a show going "oh this is gunna be awesome" or "this is gunna be stupid." Ya know what I mean? There's always a magic to every single one.
OTW: What're your fans like?

Kloser: Our fans just love music. It's awesome.
OTW: Have you had any favorite moments with fans thus far?
Kloser: When you see people singing your songs, even if it's just a song about…I don't know, a sidewalk, it always carries a heavy weight. When you drop out on a song and people fill in your lyric, it's the world.
OTW: Gigi Hadid also knows your music! She recently used it in a Vogue Italia video. Where were you when you found out and how did it feel?
Kloser: DUDE! I was paintballing when that happened, and I threw up at paintballing because it was so hard. Then I went to The Apple Pan to eat, and this happens. I guess Gigi liked the song, and her team liked the song. I ordered a coca cola, went outside to have a cigarette and I couldn't eat. I was freakin' out.
OTW: How'd you feel when you saw it released?
Kloser: I was super excited. I really like fashion too, so to be in Vogue Italy with someone as drop dead gorgeous as Gigi Hadid…
OTW: Think you'll meet her at any point?
Kloser: I mean now I've got a chance right?
OTW: Final question, who are your Ones to Watch?
Kloser: Sam Evian
Check out Kid Bloom on whatever service you listen to music on, and stay tuned for a live show near you! We've got a special feeling about these guys.