Hollow Coves' 'Moments'  Is a Reminder to Not Let Life Pass You By [Q&A]
If you are seeking new music that is all-around uplifting, adventurous, atmospheric, vibey, and dynamic, Hollow Coves is here to deliver some righteous tunes your way. Comprised of Ryan Henderson and Matt Carins, the Brisbane duo crafts indie-folk songs with gentle melodies that will leave you feeling utterly wholesome. As a matter of fact, their debut full-length album, Moments, will do all the convincing for you. On Moments, Carins reflected,
"After our EP came out, we got a lot of messages from people saying that our music helped them through tough or stressful times. I think that definitely motivated us when we were working on 'Moments.' We wanted to continue to write songs that could help to shine light and bring a bit of peace into people's lives."
With gorgeous blends of blissful pianos and captivating strings, Moments is home to several gems like "Patience" and "Borderlines." The emotional "Ran Away" speaks volumes to those who have lost someone special, while "Beauty in the Light" draws us back into the refreshing ambiance that is Hollow Coves. Whether it be the twinkly guitars in the title track or the crescendoing piano in "Pictures," Moments arrives as a project essential for the soul.

Henderson continued,
"Perspective is so important. More and more we keep hearing about all the tragedies around the world. The focus is so often pointed towards the negative. It's easy to get stuck in that. I guess in a way we kind of wanted the album to be the music equivalent of some sort of new-age retreat where people might go to sit still, renew their mind, and shift their focus to something more positive."
To celebrate their new music, we recently chatted with Hollow Coves about positivity, their 2020 headline tour, and of course, Moments.
OTW: How did you two agree upon the name Hollow Coves?
HC: We actually took a very long time to agree on the name. We wanted to find a name that fit the sound of our music. We tried to use the classic band name generator on Google, but everything that produced was pretty rubbish. So we started just sending each other lists of words and word combinations that we felt might suit us. This kept going back and forth for months. We must have gone through hundreds of names before we finally, somehow, came up with Hollow Coves, and I guess we both just felt it was right.
OTW: Why is positivity such an important aspect of not only your music but who you two are as human beings?
HC: This was something that we were really intentional about when we were writing the album - especially now with depression being so prevalent in society. We wanted our music to have a positive impact. We wanted to remind people that life can actually be pretty amazing if you let yourself see the beauty in all the little things. Perspective is everything. We believe it's pretty fundamental for everyday living. Even though things don't always go the way you hope they would, being positive and grateful is so important. Music can be such a powerful tool. We just want to use it to make the world a better place. Even if it's just by making people's day slightly better than it was prior to listening to our music.
OTW: Can you describe Moments in five words?
HC: Uplifting, adventurous, atmospheric, vibey, and dynamic.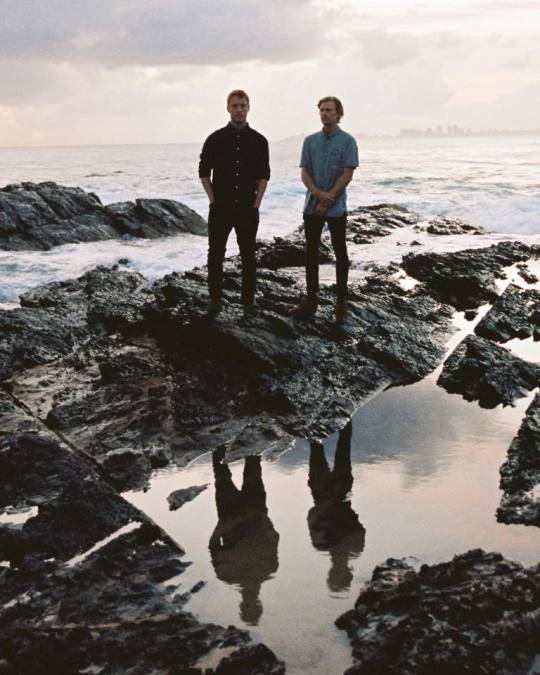 OTW: The record is inspired by special moments you two have shared over the years. Are there any particular memories that stand out the most?
HC: There have been so many special moments over the last couple of years and through writing this album. Even though it has been a lot of hard work, we're super grateful for everything we've learned along the way. We still can't believe that we get to travel around the world playing music. One particular memory that stands out was the story that inspired the title track, "Moments." It was one afternoon up in the mountains of Norway. We hiked to the top of the mountain and saw one of the most breathtaking sunsets we'd ever seen as we looked out over a spectacular view. The way the sunset glow illuminated the mountain peaks and lakes was heavenly. It gave us the realization that in life we only get so many opportunities to either do something amazing or let the moment slip by.
OTW: "Anew" is a touching song inspired by a fan who conquered depression by renewing his love of music. In what ways has music helped you get through tough times?
HC: Yeah, this song was something we felt called to write about. After our Wanderlust EP, we received so many messages from fans saying that our music had helped them through tough times in life. We just wanted to write a song that could speak a positive message to anyone going through something. For us, music brings out all types of different emotions. Music can so powerfully change moods. Through busy stressful seasons, we have often listened to artists like Sigur Ros, Asgier, and Bon Iver, and they have calmed us down and made us feel good again. We were inspired to make music that could have this kind of therapeutic effect on others.
OTW: If you could sell out a headline show anywhere in the world, where would you pick? Who would be your openers?
HC: Oh man, Red Rocks in Colorado would be an absolute dream. It's such a beautiful space. We'd probably just want some good friends to open for us to make the whole night super fun. Harrison Storm, Austin Basham, and Riley Pearce.
OTW: What part of your 2020 North American headline tour are you most looking forward to?
HC: Well, this will be the first time touring over there with a full band so we're pretty excited about that. Returning to Canada is always a highlight for us because the crowd there has always been such a treat to play in front of. I'm also really looking forward to playing in Vancouver just because the venue looks insane.
OTW: Who are your Ones To Watch?
HC: I'd have to say Alexander Biggs from Melbourne. We've been really digging the tunes he has been putting out. There's also a band from London called Flyte. Their debut album is amazing and they are really good live. Definitely worth checking out.
Revisit Hollow Coves' spectacular Live From the Rooftop  performance of "Ran Away" below.

October 21, 2019