Jagwar Twin Takes Us to the Mall of America and Falls in Puppy Love [Tour Diary]
Photo:  Joshua Hubberman
Not too long ago, Roy English, who is more popularly known as Jagwar Twin, was preparing to move to Idaho to work at Pizza Hut. Now, he has a striking, kaleidoscopic debut album, Subject To Flooding, under his belt and is just getting off tour with Avril Lavigne.  
The disparate possibilities of the past and Jagwar Twin's current promising future as a beacon of alternative music is a testament to the undeinably humanity that courses through his work. From anthemic surges of alternative rock to unexpected hip-hop-inspired breakbeats, each element feels like an extension of English himself.  
And the sentiment seems to hold true when it comes to Jagwar Twin's touring life as well. We caught up with Jagwar Twin following his tour with Lavigne to get an inside look at what life looks like on the road. Turns out, it involves an unexpected amount of mini-golfing and adorable puppies.  
Roy skateboarding in a Walmart parking lot. Most effective tour transportation.

Rainy Day vibes in Denver.

Luke and Roy working on some new ideas in one of the few quiet moments between shows.

Mall of America had a mini-golf course so we decided to bet $100 on a game. Roy was Loser.
Freshly painted nails.
Roy's sparkly in-ears, wireless pack and pre-show Palo Santos.
Roy burns Palo Santos before every show.
Day off in Ithaca NY to hike and swim in the ice cold Lucifer Falls.
Roy with his two biggest fans Maven and Arrow talking about their favorite ice cream and ancient civilisations intermingling with dinosaur species.
Pre-show with the band.
Puppy love in Seattle.
Tattooed reminders.
Roy drinks a lot of tea.
"trust your guts" stomach tattoo in Pittsburgh with Bryce. The biggest lesson.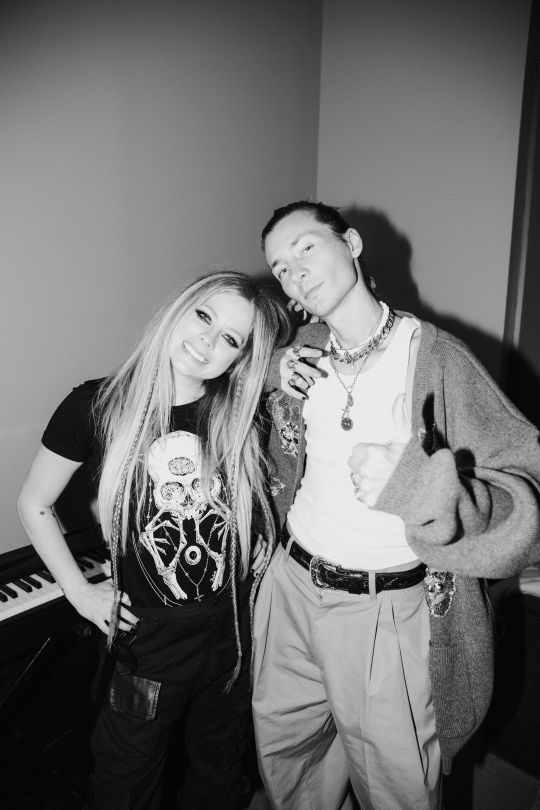 Avril and Roy backstage after a crazy show at Pier 17 in NYC.
Cooking on new music on the bus.
Pete and Roy wearing matching LOSER shirts in a parking lot in Flagstaff, AZ.
Soundcheck at Denver. This theatre was gorgeous.
For more from Jagwar Twin, revisit his live rooftop performance of  "Long Time Coming" below.  
October 29, 2019