Surfaces Is Quite Possibly the Most Optimistic & Eclectic Indie-Pop Duo To Date
Smooth, sunny, and scintillating are just three words that describe your next jazzy pop obsession: Surfaces. When this charming pair is doing what they do best, they transport you to a tropical paradise where your worries are instantly washed away. With "hakuna matata" vibes, Surfaces is here to assure you that everything will be okay so long as we are alive and happy.

Comprised of Colin Padalecki and Forrest Frank, Surfaces produces the most delightful fusion of jazz, pop, soul, reggae, and calypso we've heard in recent memory. The Texas natives met over the Internet when the songs Padalecki had uploaded onto SoundCloud as a solo endeavor were brought to Frank's attention. From there, the two began collaborating through iPhone voice memos while studying at universities 90 miles away from each other.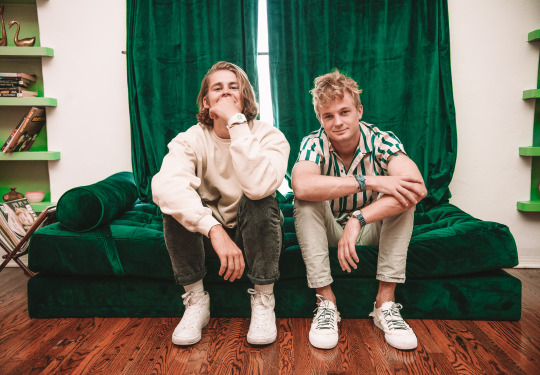 Combining Frank's enthralling vocals and production with Padalecki's advanced writing and arrangements, Surfaces was rightfully born. They made their 2017 debut with "Be Alright," featuring a lovely piano and stunning vocals courtesy of Padalecki's cousin, Alexa. From there, Surfaces released their debut full-length, Surf (LP 2017), which features hip-hop inspired tracks like "Loving" and sweet tunes like "24 / 7 / 365."
Earlier this year, Surfaces unveiled yet another fantastic album, Where the Light Is, which Padalecki and Frank created in a lakefront log cabin just outside Austin. This eclectic record certainly showcases more of Surfaces' fun-loving image, with a fan favorite being the bouncy "Sunday Best." On the other hand, chill tunes like the title track and "Someday" expose the more laid back side of Surfaces. With cheerful instrumentals and uplifting lyricism, Where the Light Is perfectly represents Surfaces at its core.
The optimistic pair just released one of their most notable singles yet, titled "Keep It Gold." Fully encapsulating the thrill of adventure, Surfaces encourages us to step out of our comfort zones in every way to give ourselves the best odds at true happiness. The high energy track features an enticing brass number paired with Surface's undeniable charisma.
On "Keep It Gold," Surfaces shared,
"With 'Keep It Gold,' we wanted to capture the feeling of adventure. A forward movement towards new experiences–not only physically, but mentally and spiritually. Better days are always up ahead. We aren't saying bad things won't happen... They will... But don't let them stop you from getting to where you need to be."
Now that Surfaces has two impressive, self-produced albums and a sold-out nationwide tour under their belt, there's no denying that this carefree duo will experience nothing but success in their bright future. If jazzy pop is right up your alley, then you owe it to yourself to give these two young bucks a chance to transport you to the paradise of palm trees and ocean breezes.
August 26, 2019