From  Linkin Park to 'the beautiful struggle,' Welcome to the Life of Naaz  [Q&A]
If you haven't met the bubbly inspiration Naaz just yet, boy do we have a surprise for you. The musical ball of light released her EP the beautiful struggle earlier this fall,  and we haven't been able to stop listening to it since. Pairing enlightening songs with mind-bending visuals, the Netherlands-based singer burst onto the pop scene with an unmatched zesty ardor that is inspiring listeners and her fans alike in more ways than one.
Ones to Watch was graced with the opportunity to speak with her about the beautiful struggle, her upcoming tour with Melanie Martinez, her ideal Halloween costume, and so much more. Hello world, meet Naaz.  
OTW: When I first listened to your music I was taken off guard. Every song I played brought forth this very specific feeling, like an inexplicable desire to jump out of my chest. It was like your music was screaming out to me, "Be heard! Make sure they hear you and know who you are!" Your music truly holds this sense of awakening, and I'm sure I'm not alone in feeling that way. So I wanted to start off by asking you about your journey into awakening your own voice. How did Naaz begin?
Naaz: Honestly that is so sick, I'm happy that my music creates that kind of reaction in you, especially because everything I do is created kind of subconsciously, I don't feel like I think a lot about what I make.. it just kind of happens and then I'm like oh that makes sense, I suppose my subconscious wants to tell me something about myself? Maybe SHE wants to be heard and now your subconscious is doing the same to you!! A chain reaction has begun…
Naaz began as a girl with a big mouth, I've always had a lot to say and a major big fantasy. I wrote little books as a kid and slowly they turned into songs simply because they felt like songs when I read them out loud. I've always just made whatever gave me butterflies. That's really all I'm chasing in life, feeling those butterflies… music gives me the same feeling as falling in love does, and that's the whole reason I started making it. As a kid growing up, I was bummed how I didn't get as many crushes anymore growing up, so I looked for different ways to feel warm inside, and it was music. Love you forever music. Yes.
OTW: What are some people or instances that really inspired your desire to start making music?
Naaz: I remember watching Linkin Park perform on MTV or something when I was a kid. My brothers told me they wrote and composed their music themselves and that absolutely blew my mind ever since I found out not everybody does that (which broke my heart at the time, which I respect now because I see the difference and art between a writer and a performer). I wanted to be able to do that too, so I started writing and googling websites to "make beats for free" (laughter). Lorde and Tove Lo definitely inspired me to start producing as well, I appreciate them forever, and ever. Never forget who inspired you… they are just as much your parents as your actual parents. They deserve more credit! No, you did NOT do this all by yourself, everyone is always inspired by whatever, that's something to respect!

OTW: Creativity seems to flow off of you so effortlessly. How does a typical session of creating music with you go?
Naaz: I usually write down everything I think or feel, even if it's simple thoughts like, "I need coffee." Anything, truly anything, can be inspirational. You can literally write a song about every scenario ever and make it interesting (I believe). I just start gibberishing and sometimes I already sing lyrics that make sense. I believe that's when my subconscious is trying to tell the world something through my little shell of a body. Writing is very natural to me because my brain goes so fast and is so full, I feel loads of butterflies when I write; it's my favorite thing in the world. I hope I die writing something beautiful.
OTW: Do you have any specific habits or routines that you absolutely need to do before you write?  
Naaz: I have branded coffee in my mind to be a magical drink. I try to never drink coffee unless I'm in the studio, I've made myself believe that once coffee has been drunk, magic will be made.
OTW: What do you want your fans to get from  the beautiful struggle?
Naaz: There is a lot of unintended concept art going on with this project, I didn't really notice all this cohesiveness until recently, but that's what I mean with trusting your subconscious. My heart wanted this all along, and then it happened as I put a piece of myself in everything I made… I want them to listen to the EP in chronological order beginning till end and realize how everything is connected. I want them to see how all the artworks are intended to look like extremely digital classical paintings. I want them to find the layers in my visuals. I want them to see how my microphone artwork is inspired by ancient Roman art but also by manga. I want them to see the reference between my microphone art and the "its not you it's me" artwork, and why it's important that it's based on Botticelli's painting of Venus. There! Now they must see it! Unless I did a bad job. But luckily, art is forever subjective so I win anyway (laughter).
OTW: While we're on deeper feelings and meanings, take any verse from any song in the upcoming album. What is the verse and what does it mean to you?  
Naaz: "everything feels new again
I know that's quite impossible
but you make it feel possible
a feeling is just as real as reality
(proud of me)"
This one is very important to me. I always like to feel brand new. Everyday, I am new again. But you can't be new AGAIN, but then also you can… with this new EP, I like to believe I've created a new sound for myself and that is what I wanted, a different bit of Naaz. Like I told everyone from the start with my name, you will always see bits of Naaz, always a different one. I wrote this song midnight after Teofrans (the producers) and I finished making "Do You?," which is my favorite song I ever wrote. I was so proud and emotional I turned my struggle into something beautiful. That "proud of me" just flew out of us… my midnight forever song ❤️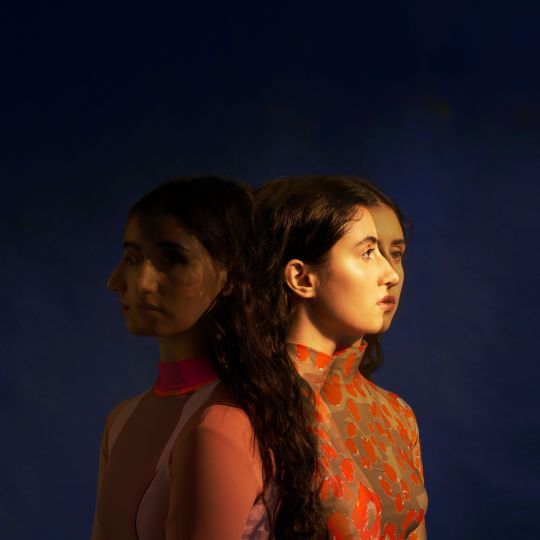 Photo: Peggy Kuiper
OTW: From your own personal studio to the stage, there's an amazing sense of passion that fans and listeners are instantly drawn to. What was your first live performance ever like?
Naaz: It was a festival in Rotterdam, my hometown. I wasn't nervous because I had mentally accepted I wasn't great, so anything would just help me become better. A strange coping mechanism that calms me down to this day. I was very chill about it. Very pragmatic, like, "Ok you will grow, step by step." I just like to live the lyrics on stage. It can be unhealthy as I can torture myself with my own words, but it makes me feel real.
OTW: A little birdie told us that you'll be touring with Melanie Martinez this upcoming year! That's so huge and exciting! What was your initial reaction to the tour?
Naaz: Ohhhh what an informative bird!! It's like those post birds back in the day, kudos. My reaction…. well, I didn't think I'd get it, so I didn't think about it at all. Until it was confirmed, I was with friends and I just shrieked. Literally. Melanie was my studio reference back when she released her first music. I used to make music quite similar to her (unreleased). She is a creative genius. I'm honored she chose me.
OTW: What are some things you miss about home while being out on tour?
Naaz: I miss my own cooking (laughter). This isn't even cocky. If you know what you like, of course, you'll make it for yourself (laughter). Ok yes but yea I miss my family and friends a lot, and my bedroom. I'm very sensitive about the way things look around me. I turned my room into everything I love. It looks like Mexico, because that's a place that just looks like everything that makes me feel like life is beautiful. I hate hotel rooms but I love the people in it, so after all, I'm fine and happy on tour.
OTW: What are some things you're looking forward to about this upcoming tour?
Naaz: I can't wait to have little eye contact romances with the crowd. There's always some faces you come back to. Other than that, I'm happy I can be with Daan (my drummer) everyday. He is my best friend and used to be my drum teacher. We have the greatest times together. The whole crew is just the funniest bunch of people. Bless everyone!!
OTW: If you had to describe your music in the form of food, what dish would it be?
Naaz: Biryani!! It's a kurdish dish of rice with loads of herbs, spices, chicken, and veggies. I am just, a lot of things. I'm a lot. But also very delicious. Taste me through a listen to the beautiful struggle!!!
OTW: What was your childhood nickname?
Naaz: Nana, my mom calls me that :)
OTW: Pineapples on pizza. Greatest invention or most heinous crime?
Naaz: I respect the creativity (nice safe, huh?)
OTW:  If you had absolutely no limitations, what would your ideal Halloween costume consist of?
Naaz: I wanna be Rapunzel for a day.
OTW: Favourite lyric of all time and why?
Naaz: Lorde - liability because I feel like that song sometimes except for that I push myself away instead so I don't have a girl to come home to and dance with
''So I guess I'll go home
Into the arms of the girl that I love
The only love I haven't screwed up
She's so hard to please
But she's a forest fire
I do my best to meet her demands
Play at romance, we slow dance
In the living room, but all that a stranger would see
Is one girl swaying alone
Stroking her cheek''
OTW: Who are your Ones to Watch?
Naaz: Luwten! A dutch girl. She is one of the coolest artists we have and she deserves much more love. Check out 'Go Honey' and tell me it isn't iconic!!!
November 11, 2019