We've all heard them. The surplus of pop songs that profess love but scream fake, or that perfectly smooth R&B track, evoking strong sexual feels but secretly reminding you of how awkward your sex life truly is. Today "art" is a lot of fabrication but didn't William Shakespeare himself declare that the purpose of creating art is to "hold a mirror to reality?" To take real human experiences, filter them through an individual's creative kaleidoscope in order to manifest real human connection?  
Rebecca Engelhardt has been trekking along her artistic journey since birth. Participating in classical music and theatre throughout adolescence and studying film scoring at the Berklee College of Music, while concurrently finding her love for floral arrangement in Boston, Engelhardt is well versed in an eclectic collection of artistic ventures. Yet it wasn't until a serendipitous encounter with Ali Shaheed Muhammad of A Tribe Called Quest and composer and arranger, Adrian Younge that her artistic calling, Fuscia, was realized.  
A skip and hop later, we find ourselves at the release of Fuscia's debut, self-titled EP (Aug. 9). Heavily influenced by Younge and Shaheed Muhammad themselves, the project's sound is lush, rich with R&B grooves and full of nods to jazz records of the late '60s and '70s. A pseudonym that fittingly represents Engelhardt blooming into herself as a songwriter while also reflecting her love for the flower and vibrant color, the EP mirrors this growth and encompasses a deep but more importantly, honest self-reflection.   
The EP kicks off with sweep of luscious harmonies and hums, showcasing Fuscia's knack for vocal arrangement and producer, Connor Musarra's ability to balance the nostalgia of jazz with fresh, contemporary touches. A sudden crescendo of production lands us into a dream-like state. Inspired by doo-wop, specifically The Mills Brothers and laden with modern R&B textures and rhythmic sections, "On My Own" serves as a catalyst for the vibe of the EP, both musically and lyrically. 
The reassurance that she will be okay on her own turns into a commentary on comparison and negative self talk in "Tinted Blue." The first single off the project, "Tinted Blue" is both groovy and infectious, heavy with jazz percussion and buoyant with an edging-on-funky baseline. "Tinted Blue" evokes a freeing feeling, like floating atop waves of sound moving fluently with the tides. Second single, "Let's Pretend" takes a look at wanting more than the physical but settling for less to preserve oneself emotionally. A slow-burning, synth heavy track, "Let's Pretend" encompasses those feelings that are difficult to admit but that most are all well acquainted with.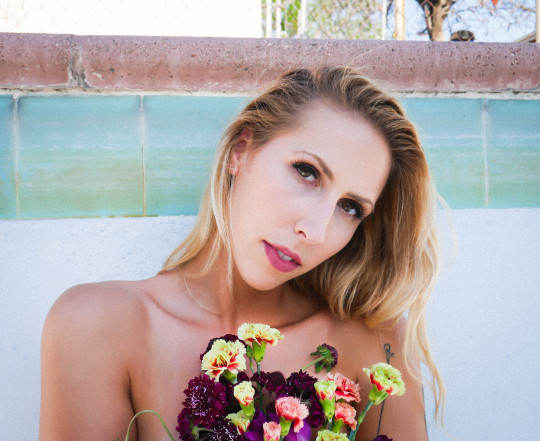 Subsequent song "Honestly" is a moment of pure self reflection. Showcasing a stream of consciousness style of lyrics, uncharacteristic of jazz, lines such as "Honestly, if I'm honest we should quit this / Foolish me, I'm still foolishly trying to fix this" and "Wondering if I'll ever be independent / Keeping things between you and me's an addiction" are blatant while refreshingly real. Cycling guitar lick, realized by guitarist Derek Long, reoccurs throughout, a sonic manifestation of how Fuscia finds herself repeating the same patterns in relationships.  
Closing with "Easy to Please," Fuscia offers her final bit of forthright self-realization, that though she realizes physicality isn't enough to assuage her yearning for more, if physical touch leaves her in tatters what will happen if she opens herself up to real connection and vulnerability? With final line "Touching skin to skin leaves me a mess," the album doesn't end with a conclusive cadence or forced optimistic outlook on life. Instead Fuscia does good ol' William justice, by holding a mirror up to her reality and daring you understand.