Joy Oladokun Demands Truth From the Unspoken in "Blink Twice" [PREMIERE]
Photo: Nolan Knight
When "blurred lines" define a romantic relationship, a curious phenomenon can arise. We've all experienced the, at times, dreadful occurrence when a casual hookup turns unexpectedly sentimental, or even worse, that cringe-worthy moment when someone you thought was your "significant other" intros you as a their "friend."  Whatever the situationship might be, even harder than the uncertainty of the feelings themselves is the process of communicating them.  
Rising singer-songwriter Joy Oladokun explores this whirlpool of vexing emotions in her newest single "Blink Twice." The signed Prescription Songs writer and Nashville-resident further develops her Americana-infused, soulful sound in "Blink Twice," paying close attention to the deep emotions underlying the personified message. In her own words,  
"'Blink Twice' is about needing someone to wake up and pay attention to you before it's too late. It was one of my first writes in Nashville after moving from Los Angeles, and my co-writers (James Droll, Emily Haber) and I were all in these unfortunate "situationships." The concept just fell out of us. I think this song helped us all realize we deserved better, though I hope people can cry listening to this. The production is almost uncomfortable in how simple it is, and I love it that way. I just didn't want it to take away from the emotion. Also, it's much less work that way."    
Stripped down to piano, Droll's backing vocals, and Oladokun's intoxicating leading vocal, the listener is left to revel in an uncomfortable yet poignant moment that demands the truth. The opening line,  "There's more to be said in the silence / Filling the blanks that you left,"  comments on the power of "silence" in a relationship, encapsulating all it does and does not communicate.  
So often, when one finds themselves paralyzed by silence, a yearning for a non-verbal cue arises. Oladokun muses over the pain present due to this lack of communication, she comes to a solution in the chorus, "Blink twice if you still love me." As the song progresses, the gospel inspiration rises to the surface, featuring Droll's seamless backup vocal performance moving fluidly through nostalgic harmonies you've definitely heard in church. Oladokun concludes the emotional track by posing a question, capturing a fear we've all felt once or twice in our lifetime, "Did you ever really love me?"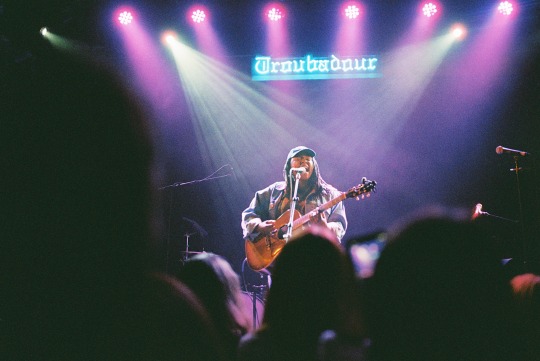 Photo: Shannon Beveridge  
"Blink Twice" is laconic in nature, but Oladokun needs very few words to communicate her message, the defining mark of a true wordsmith. Her gift for incredible lyricism and melody has not gone unnoticed throughout her journey as a songwriter. At 10 years old, she saw a video of renowned folk-blues singer-songwriter Tracy Chapman jamming on the guitar. She recalls, "seeing a black woman playing folk music and owning it brought something to life in me."  
In 2017 she released "No Turning Back" which was later used by Russell Wilson and Ciara in their baby announcement video, landing her smack-dab on Prescription Songs radar. Presently dividing her time as a songwriter and an artist, Oladokun's creative strengths have flourished beautifully since we first covered her landmark single "Sober"  little over a year ago. Currently on the road opening for Wrabel and Billy Raffoul, Oladokun is swiftly becoming a prominent force in the genre-bending world of pop music today.

October 9, 2019